Thank you for your interest in our programming. Unfortunately, we have reached capacity for this event. Please check back at HerzogFoundation.com

for future opportunities.
An Evening with The Honorable Mike Pompeo
Thursday, February 9, 2023
Doors Open: 5:15 p.m.
Reception & Book Signing:
5:30 p.m.–6:00 p.m.
Program: 6:00 p.m.–7:00 p.m.
Location:
The Herzog Foundation
105 NW 188th, Smithville, MO 64089
Former Secretary of State and CIA Director Mike Pompeo spearheaded the Trump Administration's most significant foreign policy breakthroughs. Now, he reveals how he did it, and how it could happen again.
Mike Pompeo is the only person ever to have served as both America's most senior diplomat and the head of its premier espionage agency. As the only four-year national security member of President Trump's Cabinet, he worked to impose crushing pressure on the Islamic Republic of Iran, avert a nuclear crisis with North Korea, deliver unmatched support for Israel, and bring peace to the Middle East. Drawing on his commitment to America's founding principles and his Christian faith, his efforts to promote religious freedom around the world were unequaled in American diplomatic history. Most importantly, he led a much-needed generational transformation of America's relationship with China.
Blending remarkable and often humorous stories of his interactions with world leaders and unmatched analysis of geopolitics, Never Give an Inch tells of how Pompeo helped the Trump Administration craft the America First approach that upended Washington wisdom—and made him America's enemies' worst nightmare. It is a raw account of what it took to deliver winning outcomes in the face of a progressive activist media, partisan conspiracies, two impeachments and endless investigations, and the COVID-19 pandemic.
Complete with a road map of the trends and players shaping the world today,

Never Give an Inch

is more than a historical review of the Trump Administration's greatest victories. It is essential listening for anyone who wants to understand the challenges of the future. And it is an inspirational story of leadership through dangerous times that will leave you with a greater appreciation for America.
Register now!
**Note:

Each attendee must register in order to attend.

Unregistered guests will be denied entry.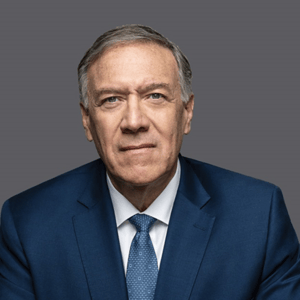 Michael R. Pompeo served as the 70th Secretary of State of the United States, Director of the Central Intelligence Agency, and was elected to four terms in Congress representing the Fourth District of Kansas. Mike graduated first in his class from the United States Military Academy at West Point in 1986. He served as a cavalry officer in the U.S. Army, leading troops patrolling the Iron Curtain. Mike left the military in 1991 and then graduated from Harvard Law School, having served as an editor of the Harvard Law Review. Up next was almost a decade leading two manufacturing businesses in South Central Kansas – first in the aerospace industry and then making energy drilling and production equipment.

In 2010, Mike watched government grow too big and decided to run for Congress. He won and was re-elected three more times to represent South Central Kansas – the heartland of America. Becoming America's most senior spy, the Director of the Central Intelligence Agency, was Mike's next chance to champion American values. President Donald Trump saw that good work and decided to make Mike America's 70th Secretary of State. As our nation's most senior diplomat in the Trump Administration and President Trump's chief negotiator, Mike helped to craft U.S. foreign policy based on our nation's founding ideals that put America First. America became a massive energy exporter and a force for good in the Middle East with real peace cemented in the Abraham Accords. Mike placed special emphasis on renewing alliances with key allies, including India, Japan, Australia, and South Korea. He also led a return to America's founding principles and a focus on every human life being worthy and the protection of the unborn. The largest human rights gatherings ever held at the State Department occurred under his leadership.

Mike currently leads Champion American Values PAC and Champion American Values Fund, organizations dedicated to pushing back against the "woke" liberals who are shoving their ideology into our homes, schools, military, workplaces, and communities. His new book, "Never Give an Inch: Fighting for the America I Love," set to release in January 2023, will include stories from his heart detailing his time as Secretary of State and CIA Director.

He is married to Susan and they have one son, Nick.
The discussion will be moderated by Michael Ryan
Michael Ryan is the Executive Editor of The Lion. A Kansas City native, he's been an award-winning reporter, editor and opinion writer at newspapers in Kansas, Missouri, Georgia and Texas.